Full website modernization, SEO refinement, and visual refresh including custom sliders, custom backend functionality and new custom "Day In The Life" Landing page.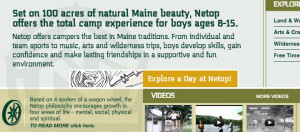 We took the original WordPress template and design and gave a modern overhaul. The original design was excellent and we knew we wanted to keep many aspects, but the layouts needed to be cleaned up, and made to be a more easy to navigate and understand visually. The inclusion of a grid based layout, custom per-section sidebars, and drop-down and bread-crumb navigation were developed along side a full revamped template and backend interface that lets Netop generate and display new content on the fly.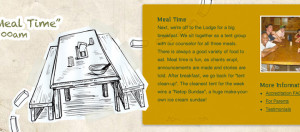 The second half of the project was the "Day in the Life" page – Steve at Netop had the idea that they wanted to show potential parents and campers alike, what a day at Netop would be like – but he wanted to more than just show a list of of text and a static picture. We brainstormed and after throwing around a number of ideas we came up with the hand-drawn map concept. We wanted to capture the fun and excitement, discovery and exploration that's part of the camp Netop experience.